McCullough Robert L.
(07/11/2015)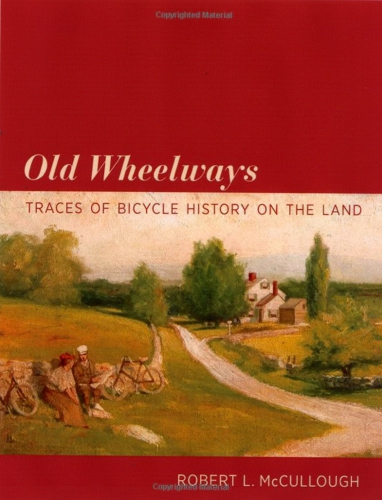 Old Wheelways
TRACES OF BICYCLE HISTORY ON THE LAND
Auteur : Robert L. McCullough
In the later part of the nineteenth century, American bicycliste were explorers, cycling through both charted and uncharted territory. These wheelmen and wheelwomen became keen observers of suburban and rural landscapes, and left copious records of their journeys – in travel narratives, journalism, maps, photographs, illustrations. They were also instrumental in the construction of roads and paths (wheelways) – building them, funding them, and lobbying legislators for them. Their explorations shaped the landscape and the way we look at it, yet with few exceptions their writings have been largely overlooked by landscape scholars, and many of the paths cyclists cleared have disappeared. In Old Wheelways, Robert McCullough restores the pioneering cyclists of the nineteenth century to the history of American landscapes. McCullough recounts marathon cycling trips around the Northeast undertaken by hardy cyclists, who then describe their journeys in such magazine as The Wheelman Illustrated and Bicycling World, the work of illustrators (including Childe Hassam, before his fame as a painter), efforts by cyclists to build better rural roads and bicycle paths, and conflicts with park planners, including the famous Olmsted firm, who often opposed separate paths for bicycles. Today's ubiquitous bicycle lanes owe their origins to nineteenth century version, including New York City's 'asphalt ribbons.' Long before there were 'rails to trails,'there was a movement to adapt existing passageways – including aqueduct corridors, trolley rights-of-way, and canal towpaths – for bicycling. The campaigns for wheelways, McCullough piont out, offer a prologue to nearly every obstacle faced by those advocating bicycle paths and lanes today. McCullough's text is enrichep by more than one hundred historic images of cyclists (often attired in skirts and bonnets, suits and ties), country lanes, and city streets.
2015- 384 pages – Éditions Mit Pr - http://www.amazon.com/Old-Wheelways-Traces-Bicycle-Histor...
Prix : 25,86 $
18:06 Écrit par Biblio-cycles de Philippe Orgebin et Jean-Yves Mounier | Lien permanent | Commentaires (0) |

Imprimer