Norcliffe Glen
(10/12/2015)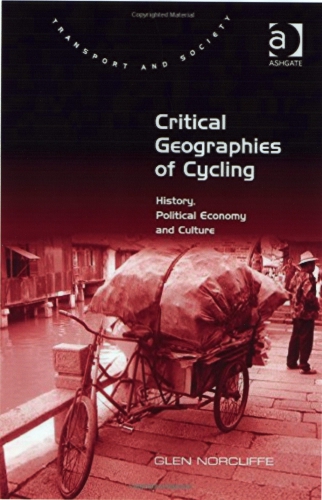 Critical Géographies of Cycling – History, Political Économy and Culture
Auteur : Glen Norcliffe
Préface : This book presents a collection of 11 connected thematic essays. They are not intended, however, to tell a sequential tale, indeed they weave chronologically from the past to the présent and back again so that the reader may choose to read them according to individual interest without losing the thread. But they are connected by themes, by their critical stance, and their interrogation of cycle and related cycling activities. For the appearance of this book I have to thank primarily Ron Buliung at the University of Toronto, who in 2013 created a graduate course on "Geographies of Cycling". He kindly asked me to talk to his class, and then pressed me as to how he could obtain a number of the essays that I had published. The answer was "with difficulty", in many cases because they were published in the annual Proceedings og the International Cycle History Conference which are not widely available. Perhaps it was obvious, but it took a few weeks for the point to sink in, and then a light bulb came on and I asked Ashgate, who have an interest in both transportation and geography, whether there would be any benefit in bringing these fugitive essays together, along with a few articles I have published in more accessible journals, plus two new essays, an opening chapter to present an overview, and the final chapter to offer a geographical viewpoint on the current battle for the street. It must have been providence that guided my letter to Ashgate into the hands of their editor for Human Geography, Katy Crossan, who responded favourably to the proposal and has since patiently and creatively guide dit through various steps and hurdles.
It was also my good fortune that I was a Visiting Fellow at Fitzwilliam College, Cambridge at this time (Michaelmas Term, 2013) which allowed me to disconnect myself from many other activities and focus exclusively on research and writing. I thank the Master and Fellows of the College for this privilege. In the process, I relearned the pleasures of cycling around Britain's most cycling friendly city, and have been able to incorporate a few of the lessons learned there into the text. But that is a recent event whereas participants at the annual International Cycling History Conference, which I have attended most years for the past two decades, have informed me about many aspects of cycling on which I was quite ill-informed, and critiqued early drafts of a number of the essays presented here. Like many other participants I have to thank Nick Clayton for launching that Conference 25 years ago.
To my mind one of the hallmarks of geography is the need to get out of our armchairs and observe things for ourselves. And if the object of our inquiry is no longer around, we seek out what people living at that time saw and wrote about it. This is not, however, a plea for rampant empiricism : theory informs the best geographical work, necessarily so since many of the key processe creating the landscape such as flows of capital, power relation, and social dynamics are often concealed . And those theoretical underpinnings need in turn to be confirmed by observing the real world : praxis and theory, and theory and praxis.
I have taken the opportunity to lightly revise the essays, and in one or two cases added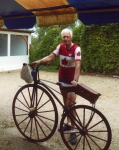 additional comment. Mostly, however, I have shortened them and dropped some of the bookish phrasing that deadens academic prose. But they do all pursue the post-structural position in viewing understandings of the bicycle as contingent upon time and place, which presents a great opportunity for geographers. The result is that widespread processes such as the rise of the E-bike, the Cyclists' Rights Movement, and the globalization of bicycle making need to be interpreted in different ways in different places.
Naming everyone who helped with the writing of these essays over a 20 year period is not possible, there have deen simply too many, so I hope they will accept this broad thank-you. I am grateful to my co-authors for permitting the reproduction of essays already published. Many friends have ridden with me on long rides in Europe and North America passing on their wisdom in such brilliant places as Lithuania , and again I offer my appreciation for these extended lessons Ron Miller helped me solve mechanical problems beyond my competence and Dave Brown and many others kept me smiling when the weather turned against us. I hope that the wisdom passed on by so many friends has resulted in essays that provide insight as well as enjoyment.
2015- 275 pages, relié, format 15,9 X 23,5 – Editeur : Ashgate Publisshing Limited – Collection : Tranport and Society. http://www.ashgate.com/default.aspx?page=637&title_id...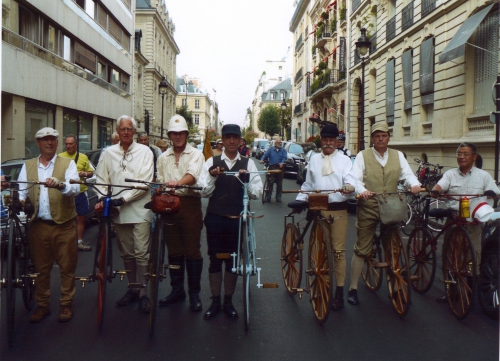 De gauche à droit : Stuart Mason-Elliott, Glen Norcliffe, Carey Williams, Gilles Tamagne, Alain Cuvier, Dominique Lefébvre, Keizo Kobayashi.
Départ du Paris -Avigon le 8 août 2015, rue Jean Goujon à paris pour commémorer le 150ème anniversaire du premier voyage à vélo du monde par les frères Olivier et Georges de la Bouglise en 1865.
16:00 Écrit par Biblio-cycles de Philippe Orgebin et Jean-Yves Mounier | Lien permanent | Commentaires (0) |

Imprimer